How to make Zone friendly Rajma Quinoa Bowl
The Rajma Quinoa Bowl is a nutritious and balanced meal that combines kidney beans (rajma) with quinoa, vegetables, and Indian spices. It adheres to the principles of the Zone Diet, providing a balanced ratio of carbohydrates, proteins, and fats.
The Zone Diet is a balanced diet that emphasizes a balance of carbohydrates, proteins, and fats in every meal to maintain proper hormonal balance and control inflammation.
Here's a Rajma (Kidney Bean) and Quinoa Bowl recipe that adheres to the Zone Diet principles: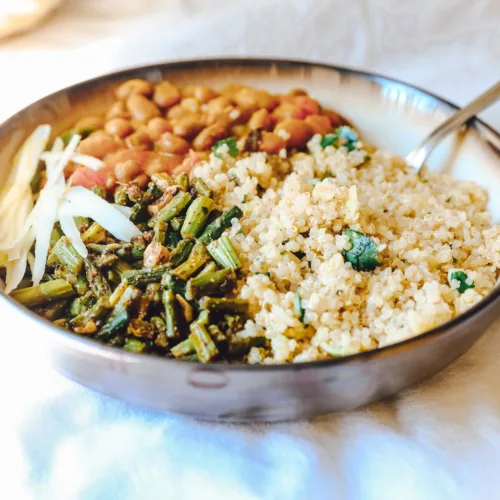 Rajma(Kidney Beans) Curry with Quinoa Bowl
This recipe provides a balanced combination of carbohydrates from quinoa, protein from kidney beans, and healthy fats from olive oil. Adjust the portion sizes according to your Zone Diet block requirements to ensure the right balance of macronutrients. Additionally, you can garnish the bowl with fresh herbs like cilantro or parsley for added flavor and nutrients. Enjoy your Zone Diet-friendly Rajma and Quinoa Bowl!
Equipment
2 Sauce pan

1 serving bowl
Ingredients
For the Rajma (Kidney Bean) Curry:
1

cup

cooked kidney beans

rajma

1

small onion

finely chopped

1

small tomato

finely chopped

1/2

cup

bell peppers

diced (color of your choice)

1/2

cup

spinach leaves

chopped

1

teaspoon

olive oil

1/2

teaspoon

cumin seeds

1/2

teaspoon

turmeric powder

1/2

teaspoon

coriander powder

1/2

teaspoon

cayenne pepper

adjust to taste

1/2

teaspoon

garam masala

Salt and pepper to taste
For the Quinoa:
1/2

cup

quinoa

1

cup

water

Salt to taste
Instructions
Prepare Quinoa:
Rinse the quinoa thoroughly under cold water.

In a saucepan, combine quinoa, water, and a pinch of salt.

Bring to a boil, then reduce the heat to low, cover, and simmer for about 15 minutes or until the quinoa is cooked and the water is absorbed.

Remove from heat and let it sit, covered, for 5 minutes. Fluff with a fork.
Prepare Rajma Curry:
Heat olive oil in a separate pan over medium heat.

Add cumin seeds and let them splutter.

Add chopped onions and sauté until they turn translucent.

Stir in chopped tomatoes and cook until they soften and become pulpy.

Add diced bell peppers and sauté for a few minutes until they start to soften.

Add turmeric powder, coriander powder, cayenne pepper, garam masala, salt, and pepper. Cook for a couple of minutes to toast the spices.

Add the cooked kidney beans and chopped spinach. Mix well.

Cook for another 5-7 minutes until everything is heated through, and the flavors meld together.
Assemble the Bowl:
In a serving bowl, place a portion of cooked quinoa.

Top the quinoa with the prepared Rajma curry.
Notes
Nutrition Info (approximate values per serving):
Calories: 350-400 calories
Carbohydrates: 55-60 grams
Protein: 15-18 grams
Fat: 7-9 grams
Fiber: 8-10 grams
Vitamins and Minerals: Provides essential nutrients like iron, potassium, vitamin C, and folate.
This dish offers a healthy balance of macronutrients and is rich in plant-based protein, making it a nutritious choice for a Zone Diet meal.